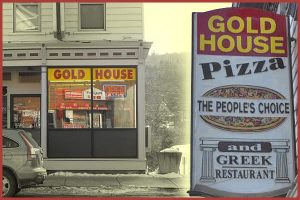 Delivery will be on hold between December 15th and December 25th. Merry Christmas!!
See MENU & Order
For help ordering call 603-616-6116
If you are looking for authentic, homemade pizza and Greek food in the Littleton, New Hampshire area, you'll want to order from Gold House Pizza. It is a family owned restaurant and have been in business for 30 years. Everything is made fresh, so there are minimal ingredients and everything tastes homemade. Their grinder rolls are made with no preservatives or additives. They make their own sauces. And, even make and shred their own cheese! Gluten free pizzas (100% GMO free) are also available. So view the menu, place an order and schedule your delivery!


Delivery hours start at 3:00 Tuesday through Sunday. Place your order up until 9:00 during the week and 10:00 on the weekends.